We had our first outing with a pony this year We were both pleased and proud, that we were invited to take Hollybrooke Melitta to the NFPB judges seminar. She was presented as an example of the type of pony judges should be looking for when judging New Forest ponies.
It was quite tricky to get her looking presentable as she has been out with the herd all winter and was very hairy and scruffy. She is due to foal to Skywalker in early April. She has not been fed all winter, not even hay so apart from her conformation she is a perfect example of a hardy and tough New Forest pony.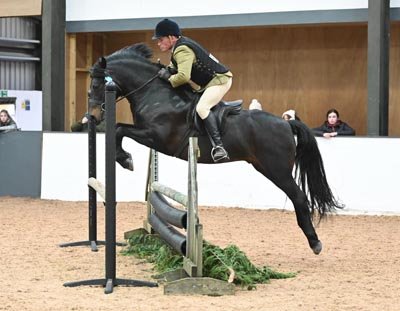 We have five other mares due to foal between the middle of March and the end of April. Two are in foal to Hollybrooke Tinker and three to Skywalker. They all look very well and we look forward to welcoming our new arrivals. Another Hollybrooke pony who has already been out an about is Hollybrooke Duke who was 1st and reserve restricted WHP champion at the BSPS Area 16 Show. What a super jump he has.