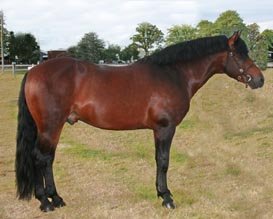 This has been a year of ups and downs for the stud. The loss of our beautiful stallion Hollybrooke Rambler at such a relatively young age was a devastating blow but to see him struggle to breath was worse. This picture was taken at the NPS Summer Championships where he was not only New Forest in hand champion, overall M&M in hand champion but also the New Forest Picton final winner. He gave us some amazing successes and wonderful memories.
We had a second sad loss in the early Autumn when the only forest bred foal we have had for six years managed to damage a front leg so badly in an unexplained accident, that she too had to be put to sleep.
However, the sad times were in part made up for by another super season with our ponies.

Hollybrooke Maxwell is now well established eventing at BE90. He has competed in ten events this summer finishing with six double clear rounds and only having one cross country penalty. Hollybrooke Jubilee has been flying all season with successes in jumping and WHP too numerous to mention. The photo shows her competing at the festival of British eventing at Gatcombe Park.
The two year old colt Hollybrooke Americano (out of our champion mare Hollybrooke Melitta) who now lives in Belgium passed his first stallion inspection this Autumn, making him the first Hollybrooke stallion approved in Europe.
Two other ponies who have also been enjoying their jumping this year are Hollybrooke Brown Sugar pictured right and the forest bred Hollybrooke Satellite (pictured left)