The stud has had another spectacular year not only with ponies produced at home but also with ponies that have gone to new homes. After a request from several Hollybrooke pony owners we have started a Hollybrooke New Forest ponies page on Facebook. It has been lovely to keep up to date regularly with what lots our ponies are doing, as well as catching up with some we had lost track of.


We bred just one foal this year a colt Hollybrooke Theodore by Hollybrooke Tinker out of a maiden mare Hollybrooke Crystal who is an unshown full sister to our champion mare Hollybrooke Sparkle. He inherited Tinker's wonderful colour. He was very large confident foal who took everything we asked of him in his stride. He left us in October for a lovely home where he has quickly become part of the family. He has already been given lots of different experiences and we look forward to the updates of his progress.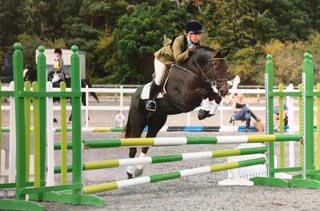 Hollybrooke Maxwell (pictured left) mixes eventing and dressage and is successful in both. He has had several BD Novice dressage wins this year and at the end of the season he stepped up to elementary level winning two BD Elementary Bronze tests at his first attempt. This gave him 2 scores towards Area Festival qualification for next year. He has also been winning rosettes at eventing, at both BE 80 and BE 90 including coming second at Pontispool, finishing on his dressage score.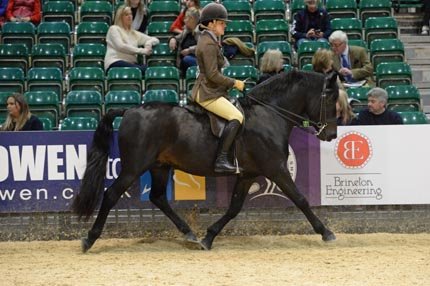 Hollybrooke Duke has had another busy year on the show circuit. He won his HOYS ticket at his first attempt early in the season. His championship wins included at the Suffolk Show (both in hand and ridden ) and at the Royal Norfolk. The season culminated in a fourth place at HOYS. A fantastic result for his owners and producer and a very proud day for his breeders!

The outstanding fact this year has been the number of children who are enjoying and gaining so much confidence and pleasure from their Hollybrooke ponies. I could write a whole page on what they have been doing but have picked out just a few. Our four grandchildren ride their two Hollybrooke ponies regularly and are desperate to start competing. This is not so easy for them living in France however, our eight year old granddaughter came to stay in the summer and had her first rides out on the New Forest with Hollybrooke Grace and won her first rosette with Hollybrooke Melitta. Hollybrooke Astra has a been turning his hoof to a variety of activities including giving his young rider her first dressage success. Hollybrooke Diplomat was calm and confident when he took his young rider hunting for the first time. Hollybrooke Jubilee age just six with her rider who is just eleven has been jumping everything asked of her winning lots of rosettes in everything from eventing to WHP classes.The photos below show just how brave and confident they both are.

Again this year our showing was confined to just our adult ponies. The season started with a fantastic result at Royal Windsor where Hollybrooke Grace was reserve New Forest champion. We followed this with Hollybrooke Tinker being reserve champion at Bath and West. Interestingly the champion was his daughter Brock Bronwen. The super star however has been Hollybrooke Melitta. She did not have a foal this year so contested yeld mare classes. At the NFPEC Show she won four championships including the supreme show champion. At the Breed Show she won the mare championship for the fourth consecutive year, the Breeders championship for the second successive year and then the show supreme (she was reserve last year) Proud does not begin to explain how we feel. We have been lucky enough to win the supreme three times with home bred ponies and still find it hard to believe. We started just twenty one years ago with seven foals that John bought off the Forest.